Mission Statement/History
Mission Statement
The Odell Public Library will provide access to information in various formats to inspire life-long learning.  The library will strive to meet the needs of the community of Morrison for education, enlightenment, public space, and entertainment.
History of the Odell Public Library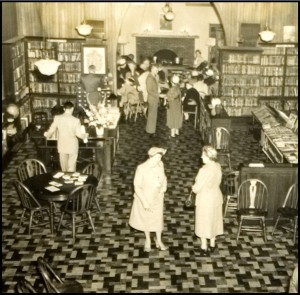 1877
The Morrison Literary and Scientific Association forms. The association includes members of the Board of Education of Mt. Pleasant Township District #1 and eight members of the community.
1878
The Morrison Literary and Scientific Association has their formal opening in the third story of the bank building located at 131 East Main, owned by Mr. Albert Jackson and Leander Smith.
1879
The association now has 165 members. The collection includes an inventory of 500 volumes and collections of minerals, fossils, marine specimens, mound builders implements, pottery, coins and various relics.
1879
Mr. John Danforth Odell donates $1000 to be used for the purchase of books. Later he donates an additional $500. He is elected to the Board of Trustees and made a life member of the association.
1887
Mr. Odell gifts the deed for the Congregational Church, 202 East Lincolnway, to the Morrison Literary and Scientific Association.  He also donates another $1000 to pay expenses.
The doors of the newly named Odell Building open.
1904
The name of the association changes to the Free Public Library.
1995
The Odell Public Library moves to its current location at 307 South Madison Street.
View photos featuring the 'Art & Architecture' of Odell Public Library here.
Founders of the Morrison Literary and Scientific Association
*Members of the first Board of Trustees
| | |
| --- | --- |
| Charles Bent * | Meril Mead * |
| Frank Clendenin | Leander Smith * |
| George Fay | Martin V.B. Smith * |
| Sidney House | Dwight S. Spafford * |
| Albert Jackson * | Edward B. Warner * |
| W.R. Kelly * | James W. Williamson * |
Mr. John Danforth Odell died on February 12, 1889 and was buried in the Lyndon Cemetery in Lyndon, Illinois.