Policies
Library Card
Internet
Unattended Children
You must have a valid library card to check out materials.
Resident Card
Residents living within the Morrison city limits pay a library tax as part of their property tax; as such they will not be charged any additional fee for a library card.  All residents living within the city limits are eligible to receive their own library card.  Children who have completed kindergarten may receive a library card with parent consent.
Non-resident Card
Because properties outside the city limits of Morrison are not charged a library tax, rural residents may purchase library cards for an annual fee set by the Library Board of Trustees. The fee effective July 1, 2023, is $60 per year per household.
How to Get Your Card
To receive your card, a current valid Illinois Photo ID with your current Morrison address is required. If your photo ID does not have your current address you need to show one or more from the following list:  voter's registration, checkbook, tax receipt for address claimed, utility bill (phone, water, power), mortgage or deed, signed lease agreement or any piece of "official" current mail.  Other identification may be accepted at the discretion of the library staff.
Replacement Card
Replacement cards for lost or destroyed cards are $1.00 per replacement.

Computer/Internet Use Policy and Guidelines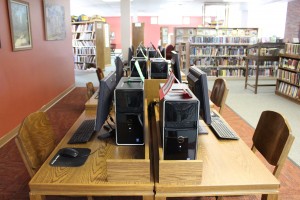 Patrons with a library card in good standing have access to log into a computer and can do so with their library card number.  Patrons without a library card will provide identification and be issued a guest pass at the front desk.  Library equipment or computers are on a "first come, first served" basis. You might be asked to limit your time on the computer to sixty (60) minutes if all computers are in use and there are patrons waiting to use a computer.  The maximum time per day is three (3) hours.  Sessions will end five (5) minutes before closing.  A maximum of two (2) people are permitted at the same computer.
Copyright laws forbid duplication of copyrighted software. The Library restricts the use of personal software on library computers. Do not download or save information onto library computers.
Rates for printing using the library printer are as follows:
Letter size (8.5″ x 11″)
$.20/side (black and white)
$.50/side (color)
Legal size (11″x 14″)
$.35/side (black and white)
$1.00/side (color)
Tabloid size (11″ x 17″)
$.35/side (black and white)
$1.00/side (color)
The Odell Public Library does not monitor or control information accessed through the internet and will not be held responsible for its contents. Parents wishing to control the materials to which their children are exposed are expected to provide sufficient supervision of the children to accomplish this.  Restriction of a child's access to the internet and its contents is the responsibility of the parent or guardian.
Not all sources on the internet provide accurate, complete, or current information.  The Odell Public Library disclaims any warranty as to any information's accuracy, authoritativeness, timeliness, usefulness or fitness for a particular purpose.  The Odell Public Library will have no liability for any direct, indirect, or consequential damages related to the use of information gleaned from the internet.
Users may not
Make any attempt to damage computer equipment or software.
Make any attempt to alter software configuration.
Make any attempt to cause degradation of system performance.
Use any library computer for illegal or criminal purpose.
Violate copyright laws or software licensing agreements in their use of library computers.
Engage in any activity, which is deliberately and maliciously offensive, libelous or slanderous.
Install or download any software.
Misuse of the computer or internet access will result in loss of computer privileges.
The Odell Public Library staff cannot, nor is it their responsibility to serve as baby-sitters, teachers, or disciplinarians. Violations of this policy are grounds for suspension of library privileges. Whenever advisable, the Library will notify the parent or responsible caregiver of incidents involving an unattended child.
Children under the age of 7 must be accompanied and directly supervised at all times by a parent or other responsible caregiver. When the safety of an unattended child is in doubt, or the parent or responsible caregiver cannot be located, or if the Library is closing, Library staff is authorized to call the police and stay with the child until the police arrive.
Adopted 8/5/15