What's Happening @ Odell
JULY 2021
New Hours
We are nearly back to our pre-pandemic hours! Please visit us during the times below or continue to use our curbside services.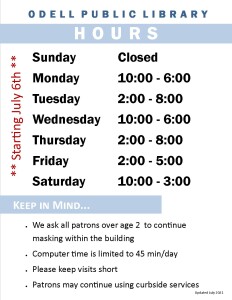 Odell Podcast
Listen in to Odell's own library podcast, Between the Stacks, available on Spotify, Anchor, Apple Podcasts, and more! Tune into the most recent BTS episode: "Banned Books," which dropped Monday, July 5th.
Join Krysta, Gillian, & Emily for their first-ever LIVE Podcast via Facebook LIVE on Sunday, July 11th at 3:00pm. They will be sharing their top 3 books of all time and much more, of course!
Our Between the Stacks crew will be taking a brief break over the next few months as Krysta & Gillian head down to college and new staff (and podcasters!) are trained.
Ongoing Book Sale
Though we will not be hosting our annual Book & Bake sale this year, we have many great books available in our ongoing book sale, located at the front of the library as well as in the computer area. Books are all free or by donation. All proceeds will benefit the library.
Community Picks
We'd love to hear about what you're reading: the good, the bad, and the ugly! Fill out this Google Form to submit a book review! We'll post reviews on our bulletin board at Odell and may even feature a review or two in a future "Between the Stacks" episode (with permission, of course)!
Kids & Family
Reading Colors Your World has been a blast! Staff have been blown away by the kids' creativity this year and their artwork has been fantastic! Take a moment to stroll through Odell's Sculpture Garden located in the children's area next time you stop by. The sculptures are all so unique and sure to bring a smile! Photos of the kids and their art projects are also posted on Odell's Facebook page.
We had nearly 150 children, ages 2-13, participate this year! Many thanks go out to the United Way of Whiteside County for sponsoring our program and to the Morrison Rotary Club for their generous donation toward book prizes. Thank you to everyone – readers, staff, parents, friends – who have made this year's program such a success!
Odell is excited to introduce our first "Tale Trail" along the walking path at Kelly Park. Families are invited to read along with the book, "The Case of the Missing Chalk Drawings" by Richard Byrne, in conjunction with our Summer Reading theme, Reading Colors Your World. The walk will be installed Friday, July 9th and will be available for several weeks. Come take a walk and enjoy a story!
YWCA Visit
Body safety educator, Mrs. Edie Peterson of the YWCA, will again visit Odell on Monday, July 12th from 10:00am-noon. Miss Edie will be sharing resources and distributing books with her friends, Bo & Brenda Bear.
Putnam & Zoo Passes
Museum and zoo passes are available for checkout on a first-come, first-serve basis. Enjoy a fun and educational day out on us!
Discovery Book Packs
We are STILL adding more packs to the rack! These themed backpacks include 5-7 books, early literacy tips and activities, and a non-electronic toy. Keep an eye out for new packs like Dinosaurs, Unicorns, and Farms!
This institution is an equal opportunity provider.