What's Happening @ Odell
May 2021
Come in: We're Open! As of May 3rd, patrons no longer need to make an appointment to use the library. Odell will continue to offer curbside services. Masks are still required and we do ask that patrons keep visits short. Computer use is currently limited to 45 min/day. Thank you for your patience — we are so happy to take this step toward normalcy! (Click image to enlarge)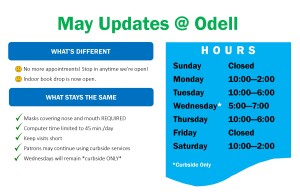 Visit our Seed Library courtesy of the University of Illinois Extension office
Stop in and check out our wide variety of fruit, vegetable, herb, and flower seeds! We also have a wonderful variety of books and magazines to help get you growing.
March Madness STACK ATTACK!
And the winner is…John Grisham! After a month and half of grueling battles, Grisham overtook Janet Evanovich for the championship! Thanks to everyone who voted along and to staff member Emily who organized the bracket!
Between the Stacks
Have you heard? Odell has it's very own PODCAST! Tune in as Krysta, Gillian, & Emily discuss new releases, spotlight areas of the library, talk tech, answer patron questions, and so much more! Look for episodes every other Monday. This month's podcasts will be released on 5/10 and 5/24. Listen here.
Save the Dates: Author Fireside Chats
The Odell Public Library Friends have generously sponsored 25 tickets to the following virtual "Fireside Chat":

Author Alex Kotlowitz – May 6, 2021 @ 7:00pm

Registration is required

 for this ticketed virtual event. Reserve your place by completing the Google Form. Patrons are welcome to suggest questions for the author up to 10 days prior to the event by emailing ask.odell.library@gmail.com.
Community Picks
We'd love to hear about what you're reading: the good, the bad, and the ugly! Fill out this Google Form to submit a book review! We'll post reviews on our bulletin board at Odell and may even feature a review or two in a future "Between the Stacks" episode (with permission, of course)!
New Materials
Kids & Family
Virtual Storytime takes place each Wednesday evening from 7:00-7:30pm on Facebook Live! Snuggle up with your young people and enjoy themed stories, songs, and rhymes with Miss Katie each week. Storytime videos remain posted online for 2 week so watch anytime! Storytime season wraps May 26th and will resume in September.
Discovery Book Packs: These themed backpacks make checkout a breeze for families on-the-go! Each pack includes 5-7 books, early literacy tips and activities, and a non-electronic toy. More topics are being added each week. Be on the lookout for Bugs, Mo Willems, Shapes, and more!
Summer Reading Club

We are so excited to share our 2021 Summer Reading Program: READING

C

O

L

O

R

S

YOUR WORLD! The program, sponsored by the United Way of Whiteside County, is a free five-week experience for preschool through 8th grade students filled with lots of opportunities to read, make art, explore, and win prizes! For more information or to register, visit http://odellpubliclibrary.com/wp/summer-reading-club

Putnam and Niabi Zoo passes are available for checkout!

Odell owns one of each pass which is available for checkout on a first come, first serve basis. Please note that you may need to call and

reserve a time

to visit each venue per the organizations' pandemic guidelines. Ask a staff member for more details.

Morrison Garden Club Coloring Contest

Children ages 2-10 are invited to participate now through May 5th
Winners receive a basket of garden supplies and K&R gift card
Coloring sheets may be picked up at Odell or download and print your own at http://odellpubliclibrary.com/wp/garden-club-spring-coloring-contest-2021

Be sure to include the child's name, age, and contact information on the BACK of the coloring sheet.
This institution is an equal opportunity provider.